Hi, welcome to World of Tanks Wiki! Thanks for your edit to the T1 Cunningham page. If you need help, read through our help pages or contact a local admin. If there are no active admins here, stop by Community Central and check out our forums.
Looking for live help? Then join us for an upcoming webinar to chat with staff and other Wikia editors. You can also check our Staff blog to keep up-to-date with the latest news and events around Wikia. Lastly, check out the Wikia Video Library, where you can find premium licensed videos to add to the wiki.
All of these links are a great way to start exploring Wikia.
Happy editing, Sannse
(help forum | blog)
I completed the American Light line through Tier X. I wanted to know if the way I am creating the page is ok with you (I'll add photos later) http://world-of-tanks.wikia.com/wiki/T71 Kingjulian13 (talk) 19:20, October 17, 2013 (UTC)KJ
One more thing, I copied and edited some letters in the WoT picture here to make it say wiki with GIMP. I thought you might like this as the new Wiki logo.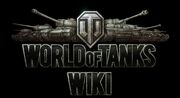 Ok thanks. Sorry about the black letters. The website I copied from had them black :P But I changed them all back. About the template, I'm kind of a rookie when it comes to that kinda stuff. I have no idea how to do that. If you could tell me that would be great. ThanksKingjulian13 (talk) 01:23, October 18, 2013 (UTC)KJ
Wow, thanks for the adminship. However I have school and work so I can't promise anything. But I'll be on as often as I can. Thanks for the template. I want to make sure this is what you had in mind before I make more pages http://world-of-tanks.wikia.com/wiki/Pz.Kpfw._35_(t)#Main_Characteristics Kingjulian13 (talk) 16:28, October 18, 2013 (UTC)KJ